POM CHAIN 5.3*13MM THICK LINE
ANY COLOR
250M/ROLL
ENDLESS ANY LENGH
Combustible white crystalline powder, with formaldehyde smell. Soluble in cold water and slowly dissolve quickly in hot water. 20 ℃ when the water solubility of 0.24 g / 100 cm3h2o. Insoluble in ethanol, ethyl ether. Soluble in caustic soda, potassium solution. [1]
General performance
Polyoxymethylene is a kind of surface is smooth, shiny hard and dense materials, yellow or white, translucent thin wall parts. Combustion characteristic for easy burning, from continue to burn after the fire, flame yellow top, bottom is blue, the molten drop occurs, has a strong pungent formaldehyde smell, fish fishy. Polyformaldehyde as white powder, is generally not transparent, good coloring, specific gravity 1.41 1.43 g/cm3, molding shrinkage ratio of 1.2 to 3.0%, molding temperature 170-200 ℃, dry conditions in 80-90 ℃ for 2 hours. Long-term heat resistant properties of POM is not high, but the short-term can reach 160 ℃, the homopolymerization short-term heat above 10 ℃ higher than copolymerization POM POM, but long-term thermal copolymerization POM instead of around 10 ℃ higher than homopolymerization POM. Can be in - 40 ℃ ~ 100 ℃ temperature range for long-term use. POM extremely easy decomposition, decomposition temperature is 280 degrees, decomposition are irritating and corrosive gas. So the mould steel appropriate chooses corrosion resistance materials.
Mechanical properties of
POM strength, high stiffness, good elasticity, friction and wear well. Its mechanical performance is excellent, than the strength of 50.5 MPa, than the stiffness of up to 2650 MPa, and metal very close. The mechanical properties of POM with temperature change is small, copolymerization is a little bigger than the homopolymerization of POM POM changes. The impact strength of POM is higher, but conventional impact than ABS and PC; POM is sensitive to gap, gap can be decreased the impact strength as much as 90%. The fatigue strength of POM is very outstanding, after 10 alternating load, fatigue strength can be up to 35 mpa, and PA and PC is only 28 mpa. The creep of POM and PA are similar, at 20 ℃, 21 mpa, 3000 h is only 2.3%, and the influence of the temperature is very small. The friction factor of POM, good wear resistance (POM > PA66 > PA6 > ABS > HPVC > PS > PC), PV value is very big, good self-lubrication. When on the ground of POM products, high loading are prone to scream like noise.
Electrical performance
POM has good electrical insulation, almost not influenced by temperature and humidity; Dielectric constant and dielectric loss in a wide range of temperature, humidity and frequency change is very small; The arc resistance is wonderful, and can maintain at high temperatures. POM dielectric strength and thickness, thickness of 0.127 mm is 82.7 kV/mm, thickness is 1.88 mm is 1.88 kV/mm.
Environmental performance
POM is not resistant to acid and oxidizing agent, the weak acid and has certain stability. POM good solvent resistance, resistant to hydrocarbons, alcohols, aldehydes, ethers, gasoline, oil, and weak base, etc., and can keep quite chemical stability at high temperature. Water absorption, good dimensional stability.
POM bad weather resistance, long-term under the effect of ultraviolet radiation, the mechanics performance degradation, pulverization and surface cracking.
formability
Crystallization, melting range narrow, melting and solidification, slightly below the melting temperature of the material temperature crystallization occurs. Liquid medium. Moisture absorption is small, without dry processing.
2 the production process
Different production process can create different kinds of polyoxymethylene and acetal copolymer.
Both polyformaldehyde
To make all polyformaldehyde, first to manufacture of anhydrous formaldehyde. The main method is first by hydrated formaldehyde (a diol, HCH (OH) 2) the reaction of formaldehyde with ethanol shrinkage (methylene ethoxy, CH2 (OC2H5) 2), then the mixture of methylal with water by extraction or vacuum distillation method dehydration, and then through the way of heating methylal release of formaldehyde. The formaldehyde in anionic catalytic polymerize and sealing and processing by acetic anhydride, get stable polyformaldehyde. This method is the most typical example is dupont production trane (Delrin).
Acetal copolymer
To make copolymerization formaldehyde, formaldehyde in the first place into three oxygen heterocyclic n-hexane (especially 1,3,5 - trioxane, also called melamine formaldehyde).
3 the advantages and disadvantages
advantages
1, high mechanical strength and rigidity;
2, the highest fatigue strength;
3, environmental resistance, good resistance to organic solvents;
4, and repeated impact resistance is strong;
5, a wide range of temperature range (- 40 ℃ ~ 120 ℃);
6, good electrical properties;
7, good resilience;
8, self lubricity, good wear resistance;
9, dimension stability.
disadvantages
By the acid corrosion, corrosion resistance is poor, poor adhesion, thermal decomposition and softening temperature is close to limit oxygen index is small.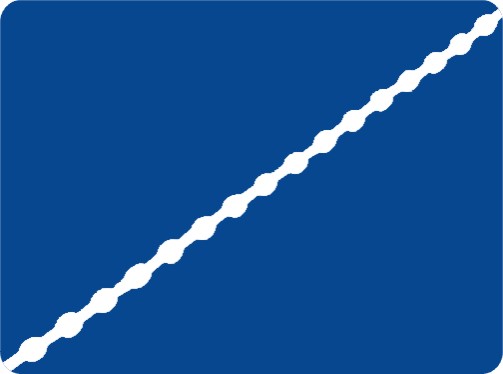 Looking for ideal Roller Blind Chain Bead Manufacturer & supplier ? We have a wide selection at great prices to help you get creative. All the Endless Roller Blind Chain Bead are quality guaranteed. We are China Origin Factory of Roller Blind Dilute Beads. If you have any question, please feel free to contact us.
Product Categories : Roll Blind Chain Series